Self fertile Pear Trees
Here we have described all the self-fertile Pear Tree varieties – an essential quality if you are planting just one Pear Tree.
Many Pear varieties need to be planted with another tree to fruit well; these are all self fertile Pears – Pear Trees which will yield well on their own. Ideal for the one-pear tree garden.
Self Fertile Pear Trees also happen to be amongst the most generally reliable of varieties; some of the best varieties are here.

Durondeau Pear trees
£19.95
Add to cart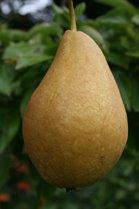 Concorde Pear tree
£19.95
Add to cart